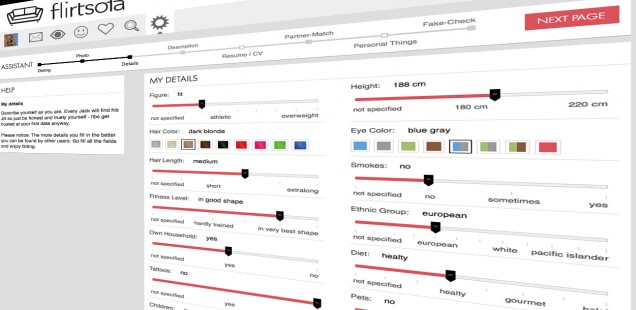 Onlinedating: 10 tipps for your profile
On Flirtsofa.com – your free online dating site for singles you can present yourself to other singles in your personal profile. But what should you pay attention to? Which secrets to online dating success are known and what should be avoided? Here are ten tips for your perfect online dating profile:
1. Show yourself at your best
The first thing other singles see on your profile are your pictures. It's difficult to present your inner values on the internet so your smile should stand out for yourself. On Flirtsofa you can upload several profile pictures . You should use this opportunity to show yourself at your best. We provide a tutorial for great profile pictures and a tutorial for perfect profile pictures too.
2. Completely fill your profile
You should definitely fill your profile completely. There are two reasons: Other Users could use search settings to find singles with specific profile options only. Would be sad they couldn't see you because you left that field blank, right? Your profile information also gives opportunity for other singles to contact you on this toppic because it can be a common feature – a great point to start a conversation! We found out that singles who completely filled their profile recieve three times more messages than other users who didn't complete theirs.
3. Create conversational topics
Harmonic relationships are often based on common features. Your completely filled profile contains information about your favorite music, books, movies, hobbies and more. This information is a great point to start a conversation with you and find more similarities between each other. Other singles can even search for specific hobbies. The more information you provide in your profile the more likely you will get texted.
4. picturesque language
Your profile description texts may use picturesque language to show who you are in detail. "I like riding my road bicycle untile my legs are burning" sounds quite different from "I like cycling" and "walking bare feet on the beach with a chocolate ice cream" is different from "I like the beach". Be creative! Your creativity can create conversational topics other singles might want to text about with you. But:
5. Keep it short and simple
Really.
6. Be humorous
Humor is the key to successful love life. Doesn't matter if you laugh about yourself or other things: Laughing is sexy. So spice up your profile with a bit of humor. But be careful: subtle irony is not always recognizable for everybody. You cannot know how somebody you don't know reacts on it. Smileys and LOL should be used spare too.
7. Do not exaggerate
In online dating men like to constitute taller than they really are. Women like to constitute more slim than they are. You should be careful: If you wangle too much you become a fraud. But on your first date your wangle will get busted and your opposite will see how tall, slim or sporty you really are. Be honest from the beginning if you don't want do be a disappointment. And by the way: It would be sad if you missed your dream mate who would like you as you are but couldn't find you because you cheated, wouldn't it?
8. Avoid double meanings
Studies show: More than a third of all women are disgusted by sexual innuendo in dating profiles. So this is definitely a don't. You could be seen as a freak if you do. You should really avoid this.
9. Check your spelling
Yes there is something called chat speak and l33t on the internet. But really: Nothing is more awkward thane a dating profile with a lot of LOLs, smileys and tons of acronyms. Really do check the spelling of the words you used in your profile. Other singles might be deterred if they see you didn't invest time and effort into your profile. They might ask themselves if you could invest effort in a relationship. This is a date-killer.
10. Be yourself
What's most important at all: Be yourself. Create a profile of yourself and nothing but yourself. If your profile shows you as a person you will find another single who likes this person. Promise!
Our statistics reveal: Follow our ten tipps and your online dating will be more successful than other singles'. Enjoy your flirts 🙂